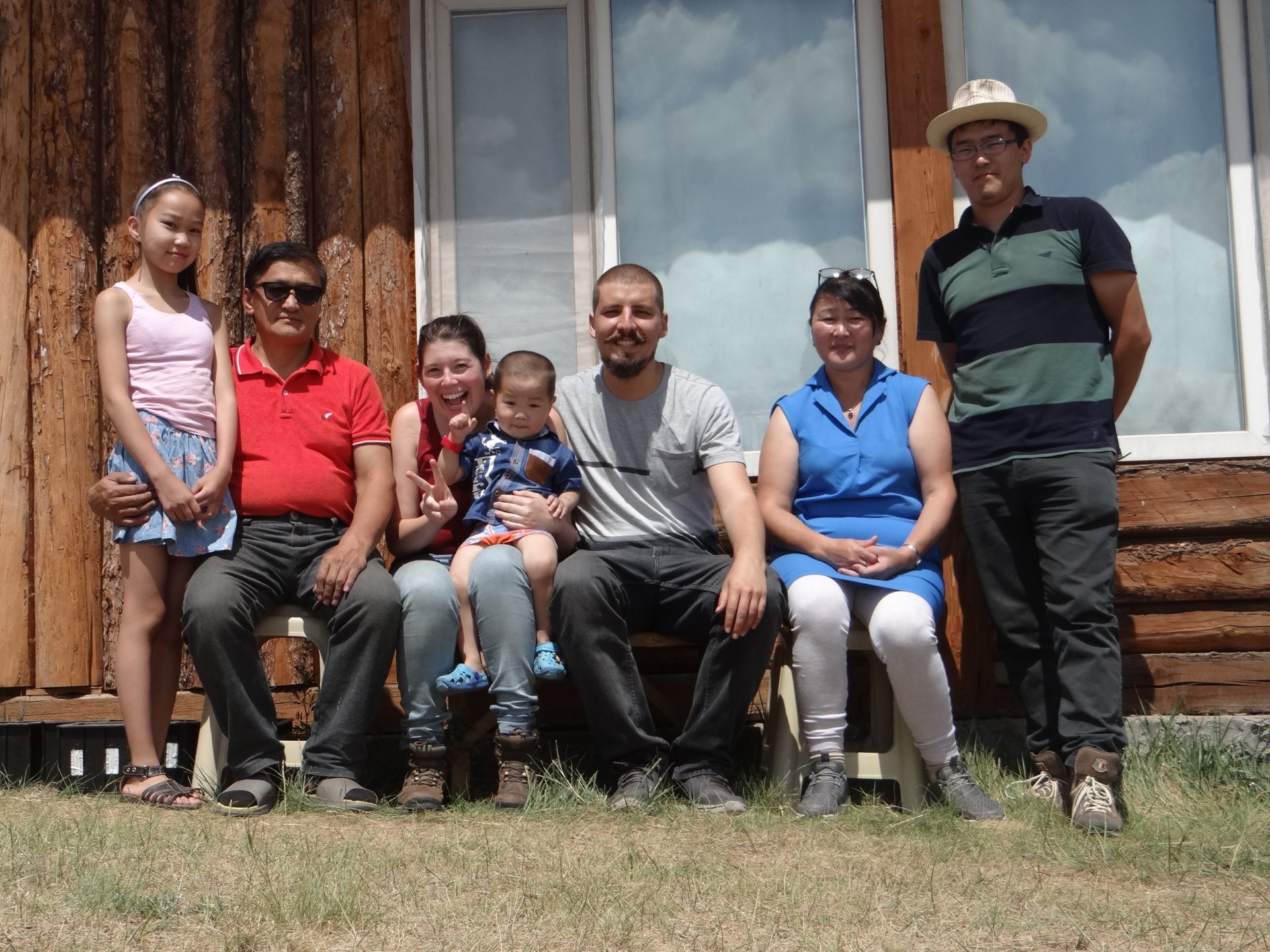 Orkhon Valley & Tsenkher Hot Spa (14 days /13 nights)
It is our most recommended tour in Central Mongolia. Plenty of sites and attractions have included in the tour such as Mongolian wild horses, Ancient capital Kharakhorum, Mogoit Hot Spa, Tuvkhun Monastery, and Beautiful waterfall. Horse Trek & 4 x 4 Offroad Vehicle
Tour Overview
Enjoy nomadic family & Nomadic lifestyle, Experience local people's lifestyle, Visit of Kharkhorum, the Ancient Mongolian Capital, Erdenezuu Monastery, Chinggis Khaan's legendary imperial city, Observation of the wild Prjewalski horses, Hot bath in Mogoit hot spa, Horseride to Tuvkhun Monastery.
Tour Overview
Duration: 14 days/ 13 nights
Distance traveled: Approx 1300 kms
Regions : Bulgan, Tov, Uverkhangai Province
Period : April to October
Accommodations:
- 2 nights in Hotel
- 1 night in a Guest Camp
- 1 night in a Ger camp (Yurt camp)
- 2 nights with a Local Family
- 8 nights by camping on un serviced area
B: Breakfast L: Lunch D: Dinner
4WD Hard Level: 3/5
Tour Price starts from $995
$1350 per person. for 2 persons
$1190 per person. for 3 persons 

$1050 per person. for 4 persons
$995 per person. for 5 - 10 persons
These prices include domestic transportation in Mongolia but not international flights to and from Mongolia.
Tour Map
This tour takes to the most popular tour destinations including UNESCO World Heritage Sites, interesting national Park Khustai & Wild horse Park and Karakorum - ruins and museum of ancient Mongolian capital, the oldest and most famous Erdene-Zuu monastery - Mongolian Buddhist culture.
Next destination is Ulaantsutgalan Waterfall located in Khangai range erupted and formed along Orkhon Valley. Also explore Elsen tasarkhai sand dunes unique area combining forest and Gobi sand dunes.
Located 360 km to the south-west from Ulaanbaatar, Kharakhorum is the ancient capital city of Mongolia.
The Great Ruler Chinggis Khaan himself ordered it to be built in 1220 as the capital of the vast Mongol Empire and the construction was completed after his death by the second Great Khaan, Ugudei.
The splendid city with a fountain in the shape of a colossal silver tree designed by the French sculptor Guillaum Bouchier was destroyed by the Chinese Ming army in 1410.
In 1586, Abtai Khaan founded the first Buddhist monastery in Mongolia.
Erdene Zuu is next to the site of Kharakhorum ruins. The lively monastery comprised 100 temples, 300 gers and 1000 resident monks enclosed in an immense walled compound with 108 pagodas.
Although ruined during the 1930's communism purges, today the monastery has been restored and is regaining its former glory.
Also visit one of the Mongolia's best travel site Mogoit Hot spa Resort. 44-86 gradus hot spa for health and drink.
Day 1: Arrival in Ulaanbaatar
Arrival to the airport where your interpreter welcomes you; transfer to your hotel.
Visit of the city, of the Gandan Monastery where Mongolians go to be blessed by astrologers and doctors lamas, followed by a visit of the National History Museum. Early evening entertainment with an introduction to Mongolian traditional singing and dancing.
Diner in a Mongolian restaurant. Overnight in Ger Camp. (B.L.D)
Day 2: Drive to Kharkhorum
Drive west; first feels of the tracks and first glimpses of Mongolian sceneries: vast green steppes, flocks roaming freely, isolated yurts, horsemen on stocky horses gallop. Arrival to Kharkhorum in the afternoon and visit of the Buddhist Monastery Erdene Zuu and its 108 stupas. The monastery dates back to the 16th C. and was built on the ruins of the ancient imperial capital. It was one of the first sedentary monasteries in Mongolia. Overnight in Ger Camp. (B.L.D)
Day 3: Kharkhorum - Meet the horses
Early departure to reach the camp from where your afternoon horse trek starts, and meeting with your local horse trekking guides; the trek is over 10km and takes you through undulating plains. Arrival within reach of the Tuvkhun Monastery. This horse trek holds no specific difficulties. Setting up of the camp for the night. Overnight in Tent Camp. (B.L.D), 4X4: 60km, On horseback: 2-3 hours
Day 4-6: On Horseback tour at Tuvkhun Monastery & Orkhon Valley World Heritage Site​​​​​​​
3 days ride through the beautiful hilly Khangai Mountain Range are necessary to join the famous Valley of Orkhon and reach its waterfalls. You ride from valley to valley, in the heart of forests and mountains where small streams run. The 4x4 leaves ahead of you to prepare your picnic and set up the camp for the night, except on the second day. Ride to the Buddhist hermitage of Tuvkhun, located on the wooded foothills of the Khangai Mountain Range. This beautiful building dating from the 17th c. fits in perfectly with its natural surroundings and was built for Zanabazar, Mongolia's first spiritual leader. The 2nd and 3rd day continue in the heart of a region typical of Mongolia with its sceneries of wooded and verdant plains as far as the eye can see, scattered with yurts and basaltic rocks, with horses and yack roaming freely, with flocks of goats and sheep grazing under the eyes of herders and their horses. The region is one of the most inhabited in Mongolia due to its fertile soils. There you will have the opportunity to witness many scenes of nomadic life. Arrival to the famous 24m high Orkhon Waterfalls. On horse: 4-6hrs 2 nights tent camping / 1 night with host family. (B.L.D),
Days 7–10: Khuisiin Naiman Nuur Lake
After leaving your 4x4 at the camp, you start a 4 days trek on foot to explore the splendid area of the 8 Lakes (Naiman Nuur), with the help of packhorses/yaks. This protected zone is located at an altitude of 2200m, in the huge crater of an ancient inactive volcano. The crater is home to 8 lakes onto which the surrounding mountains and forests of conifers reflect themselves. A rich fauna and flora characterize this area: sables, stags, wild boars, mountain goats, and iris, gentian, bellflowers, buttercup, edelweiss and other medicinal plants. From lake to lake, the trek takes you in the heart of wilderness where vehicles cannot access most of times, to enjoy beautiful landscapes of wooded steppes. You will meet few nomad families living in the area, brimming with hospitality.
The trek's itinerary accomplishes a full circle and returns to your first camp in the Valley of Orkhon on the afternoon of the 10th day. On foot: 5-6hr per day, 3 nights camping on the banks of a lake / 1 night with a local family.
Day 11: Tsenkher Hot Springs
You leave your nomad camp and head for Tsenkher Hot Springs. Arrival to a yurt camp located near the springs to enjoy a well deserved bath in the hot waters after the trek. The sulphurous water springs out at 86.5°C and is renowned for its medicinal virtues. 4x4: 5-6h approx./140 km Overnight in a ger camp (B.L.D),
Day 12: Tsenkher Hot Spring - Tsetserleg City - Khugnu Khan National Park
Tsetserleg - meaning "garden" in Mongol – is the capital of the Arkhangai Region (North Khangai) and one of Mongolia's most pleasant cities. The city is particularly green compare to Mongolia's standards. View of the city from a neighbouring mount and visit of the beautiful Zaiaan Khuree monastery/museum, followed by a walk in the local and colourful city market. After lunch in town, drive east to Khugnu Khaan, an ecosystem resulting from the encounter between steppe and desert, and also nicknamed 'Little Gobi.' Size the opportunity to enjoy a camel trek. 4X4: 210km/4-6h Overnight in a tent camping. (B.L.D),
Day 13: Khugnu Khan - Khustain Nuruu National Park - Ulaanbaatar​​​​​​​
Drive to Ulaanbaatar with a last stop in Khustai Nuruu National Park. Park is renowned for its successful reintroduction of the mythical Prjewalski horses. Take a walk through the forest of larches and observe these semi-wild horses in their pastures. Final drive for Ulaanbaatar after lunch in Khustai.
Shopping and farewell dinner in the company of your interpreter and driver. 4X4: 323 km / 5-7h, Overnight in a hotel.
Day 14: Ulaanbaatar
Free time. And transfer to the airport for departure.
Photos of The Tour
For more information or to book a tour
Contact us at e-mail: [email protected] or Call: +976-99106506 +976-99192846
People Loves Tabi Adventure Tours
Totalmente de lo mejor

Nosotros no somos fan de los tour, pero el hecho de haber estado solo se sintió menos como tour y más como haber contratado a un "driver" (si no sabes de lo que estoy hablando, probablemente debas leer nuestro post sobre Cómo recorrer y conocer Mongolia). https://filiyginoenviaje.wordpress.com/2017/06/17/nuestro-itinerario-en-mongolia/

The sceneries were simply breathtaking! Its really back to basics but I love every minute of it. I will visit again if I can.
Enquiry Form
about registration