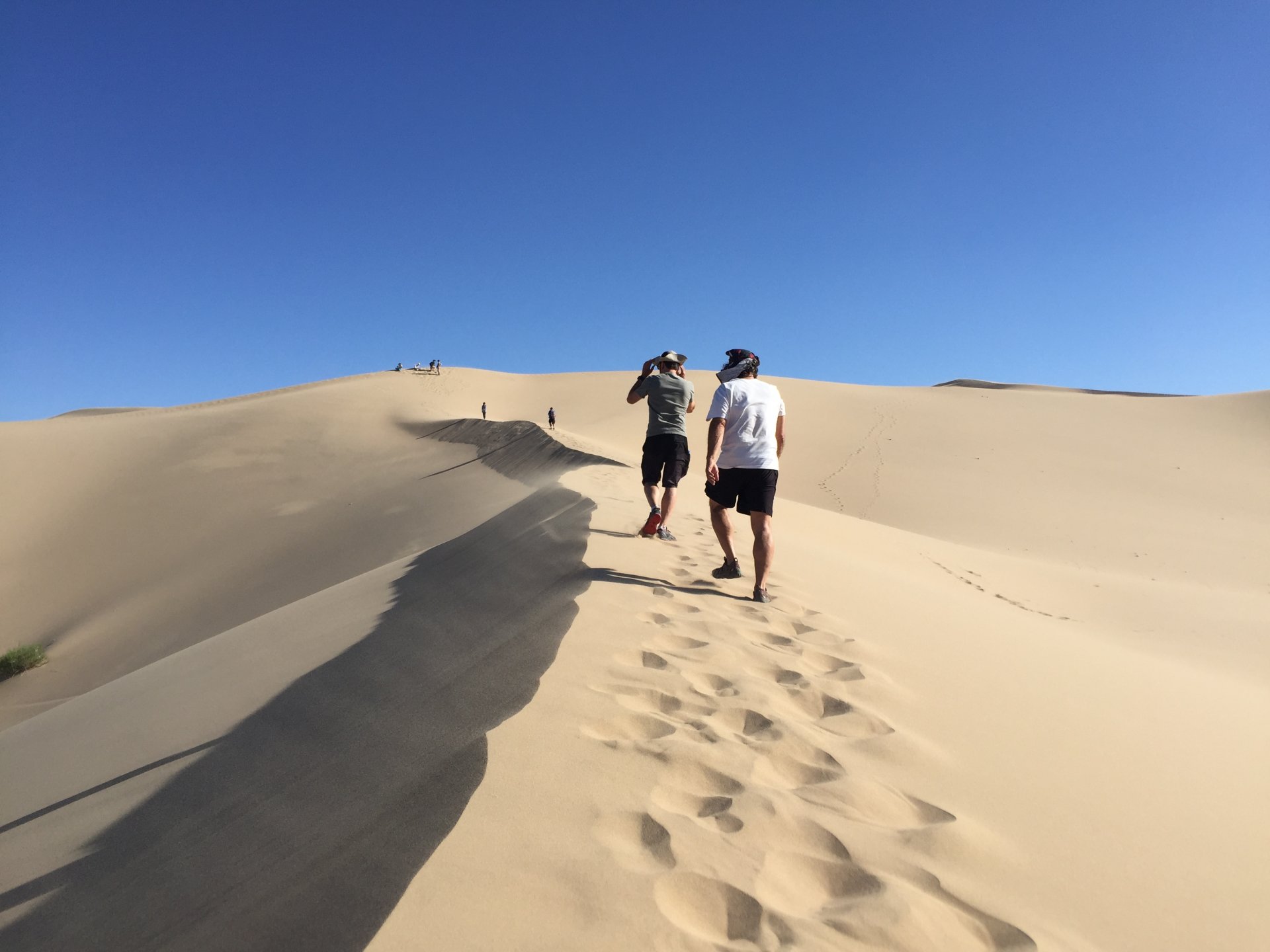 Gobi Discovery & Erdenezuu Monastery (9 days/ 8 nights)
It is our most recommended tour in Southern Mongolia. Plenty of sites and attractions have included in this tour such as Mongolian wild horses, Ancient capital Kharakhorum, Mogoit Hot Spa, Tuvkhun Monastery, and Beautiful Ulaantsutgalan Waterfall.
Tour Overview
Enjoy nomadic family & Nomadic lifestyle, Experience local people's lifestyle, Visit of Kharkhorum, the Ancient Mongolian Capital, Erdenezuu Monastery, Chinggis Khaan's legendary imperial city, Observation of the wild Prjewalski horses, Hot bath in Mogoit hot spa, Horseride to Tuvkhun Monastery.
Duration: 8 days/ 7 nights
Distance traveled: Approx 1200 kms
Regions: Bulgan, Tov, Uverkhangai Province /Khustai Nuruu National Park, Khugnu Tarna Natural Reserve, Orkhon Valley World Heritage Site/
Period: April to October
Accommodations:
1 night in a local family
1 nights in a ger (yurt) camp
5 nights in tent camping
B: Breakfast L: Lunch D: Dinner
Hard Level: ☆☆☆/5 - 4WD
Tour Price
$ 625 USD per person. for 2 persons
$ 590 USD per person. for 3 persons
$ 575 USD per person. for 4 persons
$ 550 USD per person. for 5 - 10 persons
These prices include domestic transportation in Mongolia but not international flights to and from Mongolia.
For more information or to book a tour:
Contact us at [email protected] or +976-99106506 +976-99192846
Tour Map
This tour takes to the most popular tour destinations including UNESCO World Heritage Sites, interesting national Park Khustai & Wild horse Park and Karakorum - ruins and museum of ancient Mongolian capital, the oldest and most famous Erdene-Zuu monastery - Mongolian Buddhist culture.
Next destination is Ulaantsutgalan Waterfall located in Khangai range erupted and formed along Orkhon Valley. Also explore Elsen tasarkhai sand dunes unique area combining forest and Gobi sand dunes.
Located 360 km to the south-west from Ulaanbaatar, Kharakhorum is the ancient capital city of Mongolia.
The Great Ruler Chinggis Khaan himself ordered it to be built in 1220 as the capital of the vast Mongol Empire and the construction was completed after his death by the second Great Khaan, Ugudei.
The splendid city with a fountain in the shape of a colossal silver tree designed by the French sculptor Guillaum Bouchier was destroyed by the Chinese Ming army in 1410.
In 1586, Abtai Khaan founded the first Buddhist monastery in Mongolia.
Erdene Zuu is next to the site of Kharakhorum ruins. The lively monastery comprised 100 temples, 300 gers and 1000 resident monks enclosed in an immense walled compound with 108 pagodas.
Although ruined during the 1930's communism purges, today the monastery has been restored and is regaining its former glory.
Also visit one of the Mongolia's best travel site Mogoit Hot spa Resort. 44-86 gradus hot spa for health and drink.
Day 1: Arrival in Ulaanbaatar
Arrival in Ulaanbaatar. Stay overnight in a hotel.
Day 2: Zorgol Khairkhan Mountain, Dundgobi Province
Drive to Zorgol Khairkhan Mountain, located in the distance of 180 km-s south east from Ulaanbaatar. This granite rock high mountain is the sacred one and worshipped by local people every year. It has some springs, and holy peaks, where only men are allowed to reach there. The mountain is very rich with medical plants and mystical stories. There is the beautiful small lake called Khagiin next to the mountain in the east. Local people call it as the Princess lake and it is the main drinking water for the local herds of animals.
Day 3: Sum Khukh Burd, Baga Gazriin Chuluu, Dundgobi Province
Drive to Sum Khukh Burd, a stone castle ruin, located in a small island in the distance of 120kms from Mandalgobi, the province center of Dundgobi. And 20kms from Baga Gazryn chuluu. Visit Baga gazriin chuluu, which is a 15km long and 10km wide stone massif. Over 20 kinds of medical herbs and many species of animals such as ibex and marmot exist here. There is a narrow canyon with asp, birch, white wicker and elm tree.
Day 4: Bayanzag, the flaming cliffs, Umnugobi Province
Drive to Bayanzag, the red sand cliffs, today better known as "flaming cliffs" due to their colors ochre and red, are located about 100 km (62,14 miles) at the northwest of Dalanzadgad. Bayanzag means "rich in saxaul". This thorny shrub measuring approximately two meters high proliferates in the surroundings and is a good source of food for camels.
Day 5: Khongor Sand Dunes, Umnugobi Province
Khongor dunes,"Khongoriin Els" in Mongolian, are the largest sand dunes in Mongolia, stretches more than 965 square kilometers (373 square miles) in the west side of Gobi Gurvan Saikhan Mountain National Park. It is 6 to 12 kilometres (3.7 to 7.5 mi) wide, 100 kilometres (62 mi) long and average height of 80 metres (260 ft), maximum height is 300 metres (980 ft)). By suddenly standing out from the plains, they are undoubtedly among the most spectacular tourist sites of the country.
Day 6: Yoliin Am, the Vulture Valley
In 1965, before the creation of Gurvan Saikhan National Park, a small 69 square kilometers (26, 64 square miles) area around Yoliin Am Canyon was already a protected area. Yoliin Am is located about 60 kilometres (37 miles) Southwest Dalanzadgad, in the mountains of Zuun Saikhan. The white bearded vulture, Yol in Mongolian, gave its name to the Yoliin Am Valley, the Gorge of White Bearded Vultures.
Day 7: Ongi Monastery, Dundgobi Province
Ongi Monastery is located at the foot of Mount Saikhan Ovoo, near the village of Saikhan Ovoo in the province of Dundgovi. This monastery was one of the largest and most respected monasteries of Mongolia before its destruction in 1939 by the communist authorities.
Day 8: Kharkhorin / Erdenezuu
Erdene Zuu Monastery, "Jewel Temple", was built between 1585 and 1586. It's certainly the oldest Buddhist monastery of Mongolia. Located in the province of Uvurkhangai, about 2 kilometers (1,2 mile) Northeast Kharkhorin, it's inscribed on the UNESCO World Heritage List in the category "cultural landscape of Orkhon Valley". The Prince Abtai Han, Khalkh leader and Zanabazar's grandfather, ordered to build it in 1585 outside the ruins of Kharkhorin, after he has met the 3rd Dalai Lama and the Tibetan Buddhism was declared religion of state in Mongolia.
Day 9: Kharkhorin to UB
Drive from Kharkhorin to UB. On the way visit a small Tumbash, 4 friendly animal's statue.
Photos of The Tour
For more information or to book a tour
Contact us at e-mail: [email protected] or Call: +976-99106506 +976-99192846
People Loves Tabi Adventure Tours
Totalmente de lo mejor

Nosotros no somos fan de los tour, pero el hecho de haber estado solo se sintió menos como tour y más como haber contratado a un "driver" (si no sabes de lo que estoy hablando, probablemente debas leer nuestro post sobre Cómo recorrer y conocer Mongolia). https://filiyginoenviaje.wordpress.com/2017/06/17/nuestro-itinerario-en-mongolia/

The sceneries were simply breathtaking! Its really back to basics but I love every minute of it. I will visit again if I can.
Enquiry Form
about registration